Creating Efficiency & High Productivity
The ProJet MJP 2500 is known for high speed, reliability, and sharp quality. Due to these impressive characteristics, the printer is often used in areas such as concept modeling, validation and rapid prototyping, as well as creating jigs, fixtures, and tools. The MJP 2500 creates professional quality parts while maintaining high speed, throughput, and ease of use.
High Quality
The printer is a customer favorite due to its high precision and quality. Notably so, the printer can print very small features lower than 300 microns. This asset allows for exceptionally sharp edges and fine feature definition. For this reason, many businesses use the machine for concept modeling and prototyping. With this machine, businesses can build highly accurate models to share with their team and customers to better represent their product designs and ideas. Additionally, because of the MJP 2500's diverse material portfolio, users can create a rapid design iteration for rigid plastic or elastomeric products.
Materials
The MJP 2500 is compatible with a wide array of VisiJet materials. All of which are engineered for performance. Therefore, each material allows for a variety of validation prototyping methods. Users have the ability to test the prints in a few different ways. Some testing methods include snap-fit applications, water-tight applications, and fluid flow visualization. The MJP 2500 is capable of printing in rigid, engineering-grade, elastomeric, high temperature or biocompatible materials, in clear or in a range of opaque colors.
Speed & Ease of Use
The MJP 2500 offers print speeds up to 3x higher than similar class printers. If that isn't fast enough, with the 3D Systems MJP EasyClean System the entire workflow from printing to post processing is up to 4x faster than comparable technologies! This cleaning system can remove supports from MJP parts in under 30 minutes, hands-free. This process allows for cleaner post-processing and simplifies the workflow to guarantee same-day design verification. That said, this machine proves itself to create efficiency and higher productivity in the workplace.
Furthermore, the MJP 2500 allows for rapid designing through 3D Sprint software! This software is an exclusive 3D Systems platform and streamlines a design-to-print workflow. The software assists users in designing builds, optimizing CAD data, and lowering cost of ownership. The MJP 2500 creates a simple workflow with greater geometric freedom with easy, hand-free support removal through a file-to-finished part process.
For more information on this machine or to schedule a FREE demo, please contact us here!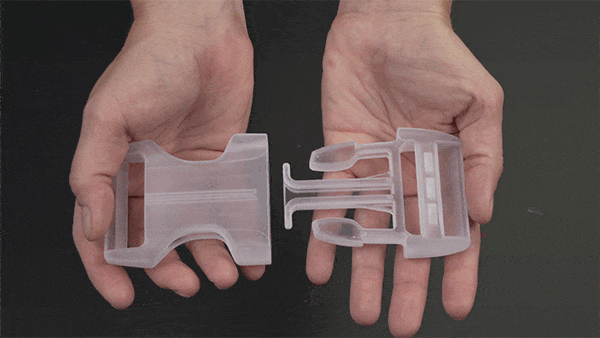 About Adia
Adia is a nationally certified woman-owned business offering custom engineering services and end-to-end additive manufacturing solutions. Adia is a proud partner of 3D Systems and Formlabs and a distributor for LOCTITE 3D Printing Resins.
We pride ourselves in carrying over 120 years of combined experience in the 3D printing industry. Using this expertise, we have developed unique programs that assist our clients with the implementation and/or improvement of additive manufacturing in their business. Through these programs, we can identify the best course of action along with a detailed plan to guide businesses on their way to reaching their highest 3D potential. Not only do we provide the machines, but we also strive to create ease before and after implementation or enhanced continued usage through our excellent support and next-day service!