Look around the room and imagine the items within your current setting that could have been 3D printed. Impressively enough, whether starting off as a 3D printed prototype or was built using 3D printed supports, the technology is crucial in the development of many objects today. To give an example, let's look at one of our customers, Kenney Manufacturing. Kenney Manufacturing specializes in decorative window hardware and furnishings as well as products for the bath environment such as shower rods, caddies, and hooks! To explore their use of 3D printing, we interviewed Timothy Elliott, Senior Product Engineer at Kenney Manufacturing.
Kenney Manufacturing uses 3D printing in areas such as presentation, prototyping, and engineering development. Kenney is a proud owner of a 3D Systems 2500 MJP and prints all their needs in house. With the 2500 MJP, the group develops parts to determine how they need to improve. As for how often they print, Timothy shared with us that it varies based on their busy seasons, spring and fall. However, typically they print almost every week and sometimes even run 24 to 36 hour builds on weekends.
"There's always a need for new designs, new concepts, new developments. So, 2 months leading up to our busy seasons, we're developing the latest versions of these designs and creating prototypes that we can present to clients. 3D printing is a constant tool we use to innovate."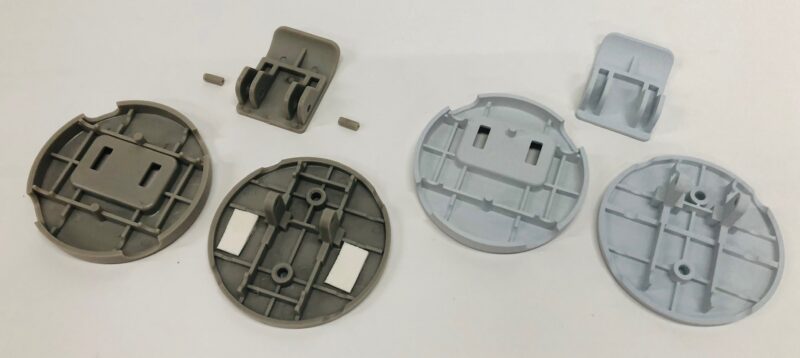 Most recently, Kenney has been using 3D printing to nail down designs in their bath hardware and storage items. As a more specific example, Kenney recently used 3D printing to design their EasySlide 4-way Adjustable Shower Caddy. This adjustable caddy hangs over the showerhead and can be adjusted both side to side and vertically. To really "nail down" their design, Kenney creates different printed iterations in which Elliott describes as unfeasible without 3D printing. Specifically in this adjustable caddy, the clam shell plastic part that connects all the pieces, requires a tight tolerance contact with the wire which would be almost impossible to recreate without the use of 3D printing.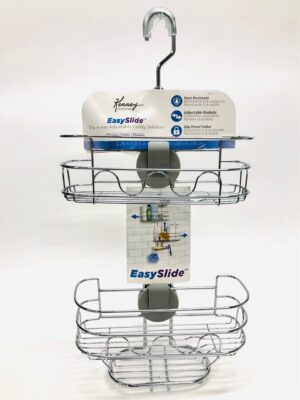 In comparison to other methods, 3D printing speeds up the development process and determines product feasibility much quicker. Before using 3D printing, Kenney would use an "old school" prototyping method. This entails creating make-shift prototypes with items laying around the shop. Elliott then explains that 3D printing allows you to make a part within a day or two and eliminates the crude "old-school" process. Additionally, this speed also allows the company to determine how the part will be manufactured and if any changes are needed before being sent to production.
"3D printing allows us to keep up in a growing industry. It helps us develop faster, see moving parts, and send products into manufacturing much quicker."
Would Timothy recommend this process to other businesses? Definitely. One thing that he wishes he had known sooner is that there are so many tools and options to get you from Point A to Point B so quickly. As to how Adia has helped Kenney accelerate their business, Elliott shared that Adia is "helpful and always present. When there were bumps in the beginning, Adia was able to help. Support from Adia is key to making this happen and would apply to any business looking to adopt additive manufacturing". 3D printing has impacted Kenney in ways that they had never imagined possible. Since adopting the technology, Kenney has done a lot of development and curated an array of new products. Elliott said, "As a small team of 3-4 engineers, we have developed about 20 patents over the last few years. We've grown incredibly fast with the help of this technology". 3D printing is critical to their business and we're happy to be supporting them along the way! Thank you, Kenney, for trusting us with your 3D printing needs. We look forward to watching your continued growth.